The eastern border of the country is coastline, with countless beachfront hotels lying off-the-beaten path and open to bookings away from tourists. The country's spine is a mountain range, where private parties can be booked in the middle of the forest. In the north and the center, capitals of heritage and history like Hoi An and Hanoi are cultural destinations for quaint and elegant weddings. In the south, the tropical weather is eternally beckoning honeymooners and marriages. Today we will get you go through some of the most exotic places to have a memorable destination wedding in Vietnam.
1. Phu Quoc 
Phu Quoc is the largest island in Vietnam, a tropical paradise on the southern tip of the country. The entire coastline is a 150-kilometer ring of beach, dotted with resorts and fishing villages, nightclubs and quaint cafes. Half of the landmass is a national park, a dense jungle of waterfalls and hiking trails, alive with flora and fauna and far removed from the riot of human civilization. 
There's an international airport here, so it's an easy base for a destination wedding. Accommodation options are abundant. Plan an upscale wedding and host all guests in a resort for spa treatments and poolside afterparties. Loved ones on a budget can easily find cheaper options just nearby. Extraordinary seafood dinners at sunset can be found absolutely everywhere.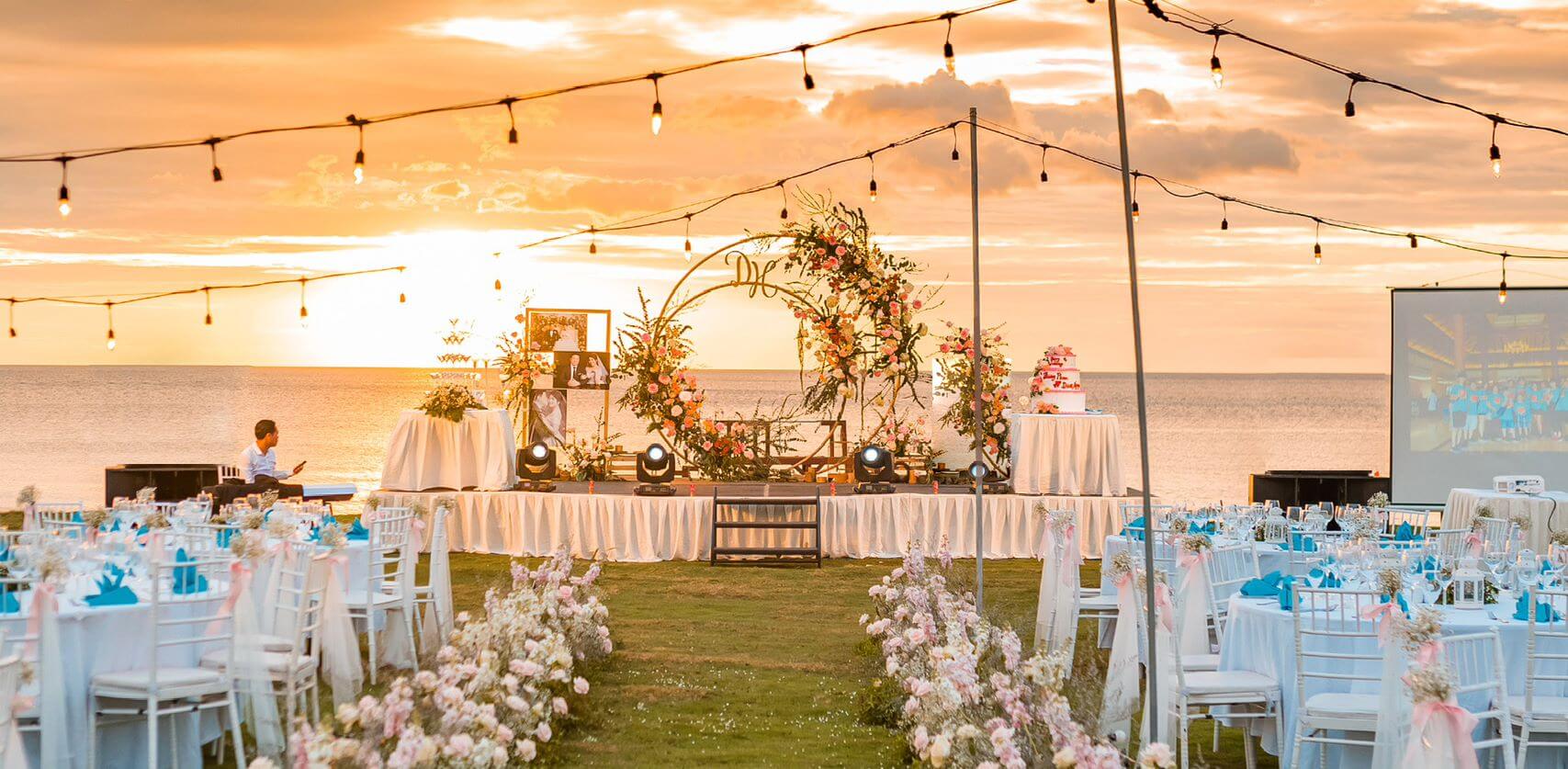 Vinpearl Resort & Spa Phu Quoc
Nothing beats a simple beach wedding, but for something a bit more polished, try the Vinpearl Resort. Sat right on the beach, the Vinpearl is built with neoclassical European architecture, wrapping itself around an enormous swimming pool and lush foliage. Formal sit-down or casual buffet-style lunches and dinners can be organized right on the seaside. Children's facilities are excellent – there's a playroom, a kids' pool, and even a safari to keep young ones entertained. The best rooms here are outfitted with bathtubs and jacuzzis, floor-to-ceiling windows overlooking nothing but the ocean for total peace and privacy. 
Vinpearl Resort & Spa Phu Quoc
2. Hoi An 
Hoi An is a UNESCO World Heritage Site famous for its living history and culture. It's the perfect destination for couples to fall deeper in love: artistic photoshoots under French balconies, a labyrinth of fading yellow paint to explore, the golden glow of swinging paper lanterns at dusk. Set a candle afloat down the river with a wish. 
Palm Garden Resort
Palm Garden Resort is the perfect wedding venue for couples craving sea and sun. The enormous property sprawls with manicured lawns and fruit trees. The pool itself is nearly 1,000 square meters, sitting just off the edge of a private beach. Water sports like jet skiing and kayaking can be booked directly through the venue. Ceremonies, parties, and dinners can be organized indoors or outdoors, every need attended to. 
3. Ha Long Bay
If you have the desire to be the bride in a one-of-a-kind wedding, maybe the destination we are about to present now will suit you the most. Ha Long Bay is a UNESCO World Heritage Site and popular travel destination in Quang Ninh Province, Vietnam. The bay features thousands of limestone karsts and isles in various shapes and sizes and in recent years has become a popular destination for couples to celebrate weddings.
Rent a cruise boat for a destination wedding everyone will remember. Sail off into the open ocean and host a ceremony on the sundeck, vows backed by the sound of the ocean. Or book a full holiday itinerary for a few days of maritime adventure. Spend the first morning having a ceremony on a private island untouched by human hands. Board the boat as a married couple and sail away into the future. The rest of the trip belongs to only love and freedom; to dreams and destiny; to play and adventure.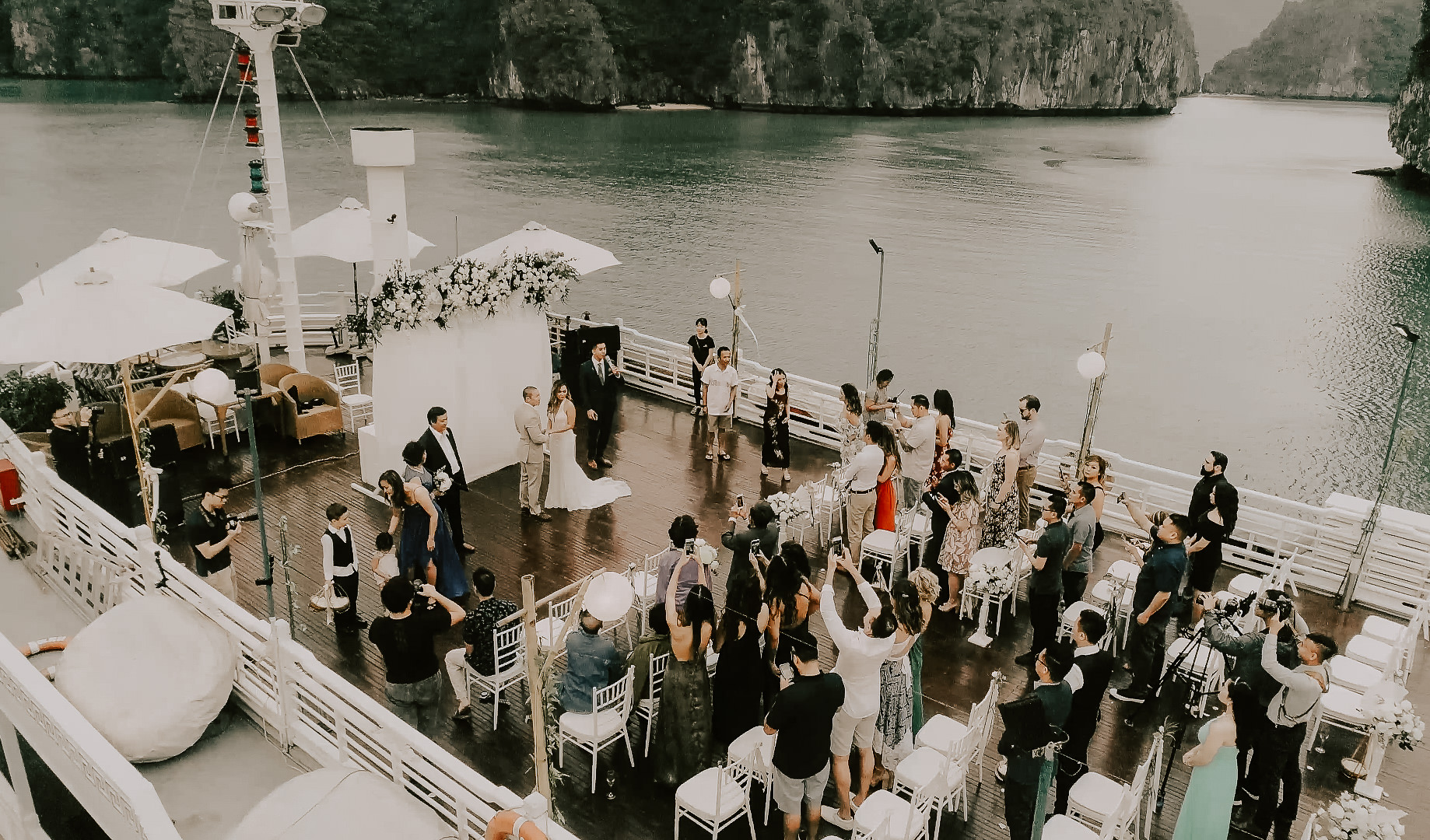 4. Da Lat
Located not too far from the crowded city Sai Gon, Da Lat is the capital of Lâm Đồng Province in Vietnam and also a popular tourist destination in our country. Dalat has a completely different vibe which resembles the Western weather: chill and serene. Also, the city's specific sights are pine wood with twisting roads and tree marigold blossoms in the winter and that's why it was called "City of thousands of pine trees".
Ana Mandara Resort
When it comes to an ideal wedding venue in Da Lat, Ana Mandara Resort is the first name that pops up in our minds. Let's imagine on your big day, you and your partner make the way to one of our lush gardens to exchange vows with never ending pine‐covered mountains and a colorful French‐inspired city as your backdrop as you walk down a fairytale cobblestone path.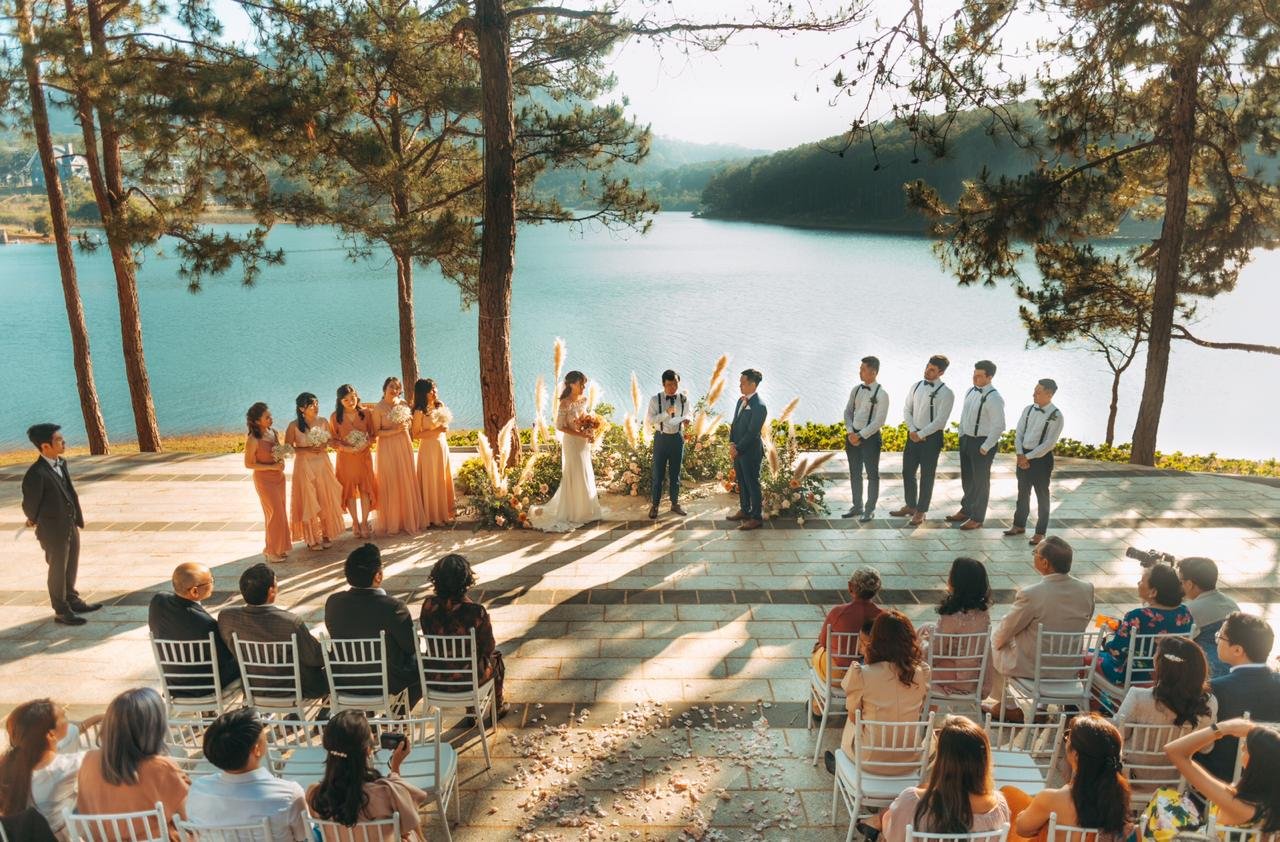 Terracotta Resort
Another beautiful venue in Da Lat is Terracotta, which is located in a prime location next to Tuyen Lam Lake, covered by green pine forest, only 10 minutes away from Dalat city center by car. They have large open space, very suitable for outdoor parties, group activities and of course, weddings. We believe you will not regret choosing this venue to have the big day celebrated.
5. Nha Trang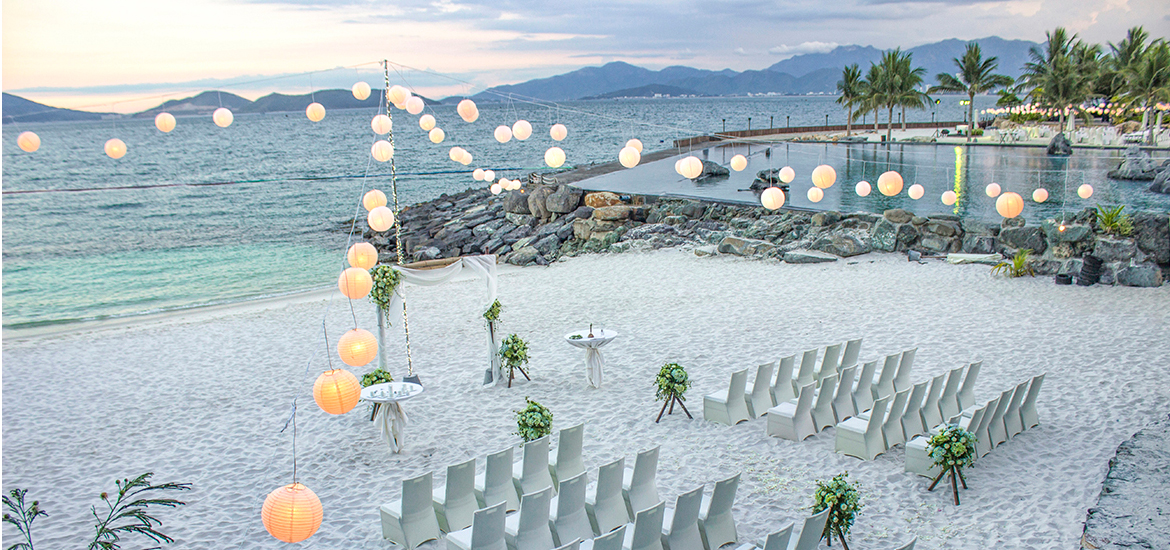 Amiana Resort & Spa Nha Trang
Nha Trang is another ideal place for your big day with a diverse system of large and small islands, stunning landscapes on the shore and under the water with wild and rustic features. The bay has been voted by the Travel and Leisure magazine as one of the 29 most beautiful bays in the world. For couples who are searching for luxury destination wedding venues, Nha Trang is the perfect destination.
6. Da Nang
Da Nang is a perfect venue in summer. The weather is warm, and the sea is blue and less stormy. Therefore, if you are planning a beach wedding, but Da Nang in your top list. Long green coconut trees and white sand will be an excellent background for your beach wedding. There are many beaches such as My Khe beach, Non-Nuoc Beach, Bac My An beach, and Nam O beach. Particularly, My Khe Beach was voted one of the most beautiful beaches in the world by Forbes magazine.
InterContinental Danang Sun Peninsula Resort
Choosing the perfect place for your destination wedding is never an easy task. As an serviced agency, we know that beside beach wedding lovers there are also clients who are not big fans of that and want to experience something different. We hope that our recommendations here would inspire and assist you in making the selection. Please let us know if you fall in love with one (or more) of those venues, we are always more than ready to be with you on the journey!