Quy Nhon at a glance
Located in the Southern Central Coast of Vietnam, Quy Nhon is the economy, culture, and tourism hub and a part of Binh Dinh Province. This city's landscapes vary from lush mountains to turquoise beaches, vast lakes, peninsulas, and islands, which makes it an ideal destination for both getaways and long vacations. Apart from that, Quy Nhon is also home to beautiful ecotourism where holidaymakers can take part in diverse outdoor activities and immerse in an authentic local living environment by staying in homestays in the countryside or small islands around Quy Nhon City itself.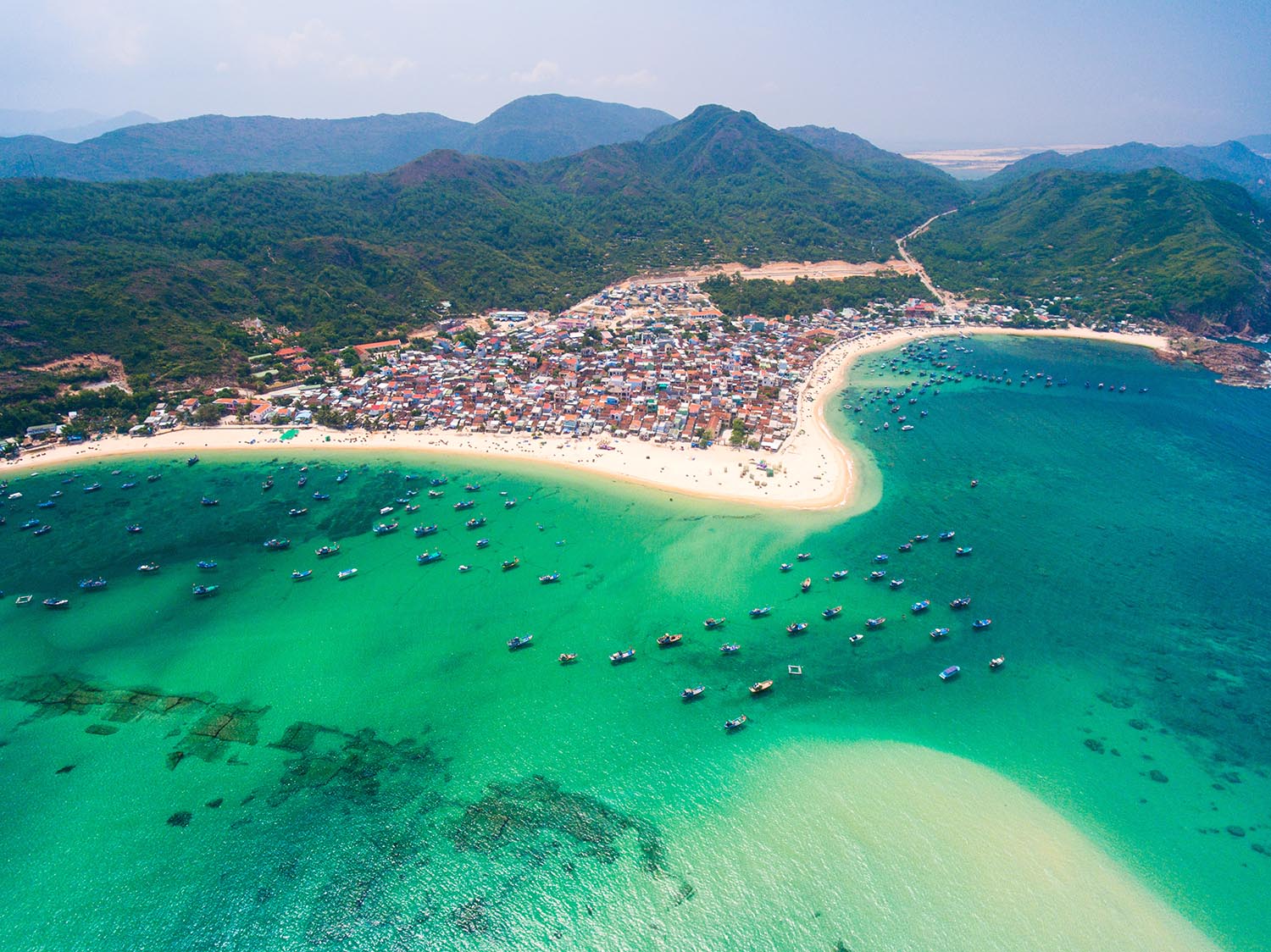 Best time to visit
A good time to visit this relatively quiet town in the south central coast is January to August, when the weather is warm (most of the time).
5 must-visit attractions in Quy Nhon
Quy Nhon has long been known as a sea paradise in Vietnam with many beautiful beaches that will captivate anyone who comes here. Here are the top attractions in this coastal city.
1. Ky Co
The first place we would like to mention in the list is Ky Co. Sited in Nhon Ly Village; this is only a small and isolated beach. Ky Co Beach is quite shallow with gentle waves and gorgeous ocean curves cutting into the rocks. The water here is crystal clear, from above, it spreads a beautiful shade of turquoise color.
2. Eo Gio
Eo Gio is a part of a huge mountain range, before tourism's intervention, it is a risky and deserted destination. The name Eo Gio or Cua Gio (the Windy Gate) comes from its special location which connects two rock peaks. Sitting in between, Eo Gio is super windy.
In recent years, to ensure tourists' safety as more and more people come to this site, the local authority built a staircase leading down to the bottom of the rock base. Although this somehow affects the original beauty of the attraction, it becomes more accessible for most people.
Right next to Eo Gio is a quaint and tranquil temple (Ngoc Hoa Temple) where you can take a seat under the shade of trees and enjoy the peaceful atmosphere after the adventure.
3. Thap Doi - Twin Towers
When you are in Quy Nhon, Thap Doi (Twin Towers) is one thing you should not miss. Thap Doi is also called Thap Hung Thanh, which was constructed in the Champa civilization at the end of the XII century. The architectural construction includes two separate towers: the northern tower stands 20-meter high and the other 18-meter. You will not only immerse in the nostalgic atmosphere but also admire the amazing works of the talented builders dating back hundreds of years ago.
4. Queen's Beach
As known as the Eggs Beach, the name Queen's Beach is because this is the former Queen's (Queen Nam Phuong who is the last empress of Vietnam) favorite beach. It is said that she went to this particular beach every time she visits Quy Nhon. Queen's Beach is famous for its fine white sand line and countless colorful egg-shaped pebbles.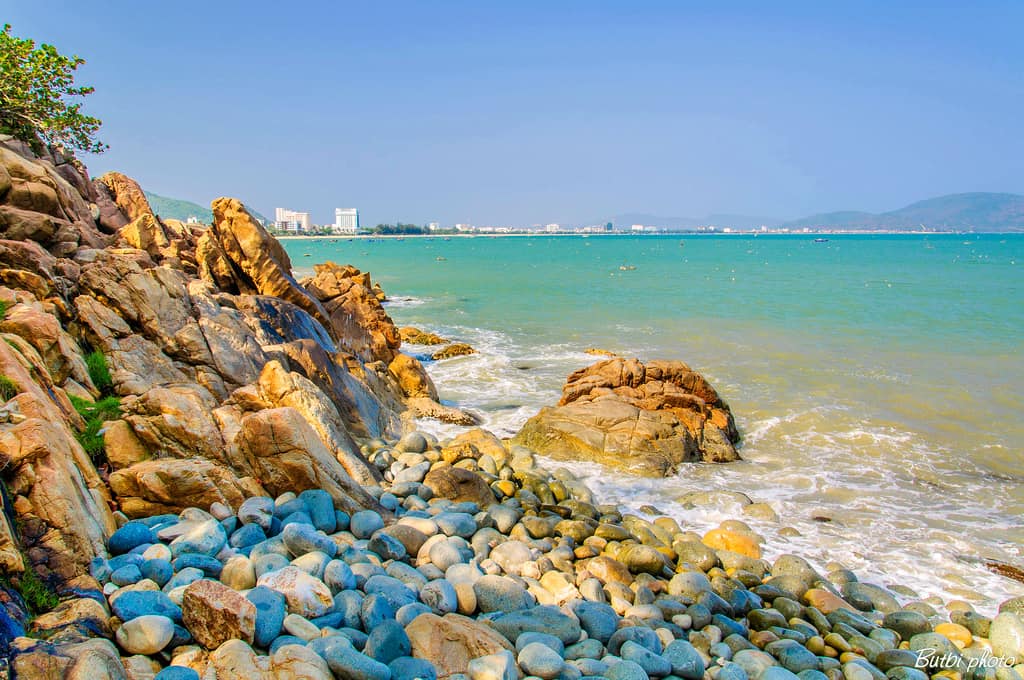 Only 3 km away from Quy Nhon city center, you can also see the grand design of rock formations and hollows apart from the beach itself. The area is also the resting place of Han Mac Tu – one of the famous poets in Vietnamese literature.
5. Bai Xep
Bai Xep is 10 km away from downtown Quy Nhon and a part of the ecotourism complex run by a private company. Bai Xep does not only have a stunning coastline but also a great range of fruit gardens and palm trees making it feel like peaceful countryside rather than a bustling tourist attraction.
There are many cafes and restaurants with sea views and lots of bungalows facing the ocean which is one of the highlights of this beach.
What to eat
Banh xeo tom nhay (jumping shrimp pancake) – is a highly recommended dish for Quy Nhon visitors.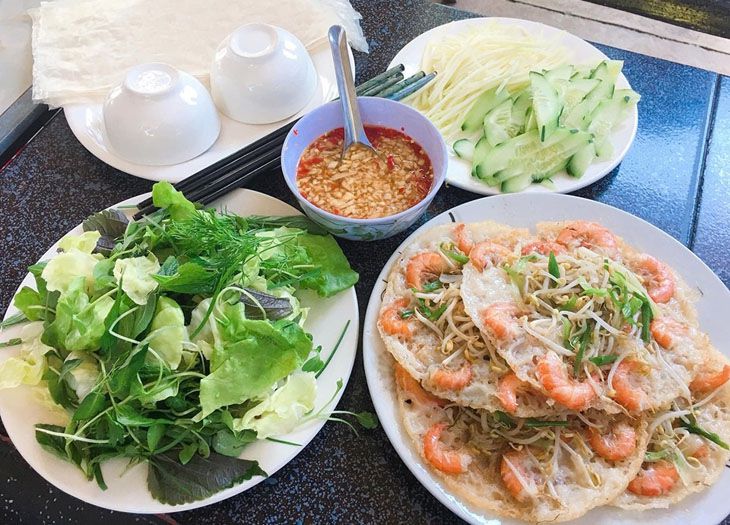 Unlike rice pancakes in the southern region, the pancake here is just the size of a fist. It is very thin and has prawns, bean sprouts and onions on top. It is served with a tray of greens herbs, rice paper, and sweet fish sauce. The combination of the shrimp cake with sprouts, cucumber and star fruit is a treat for the palate.
Banh hoi is similar to rice vermicelli found elsewhere in the country. It is made from rice flour into very fine strands. The dish is most delicious when it is soft and covered with a thin layer of oil. It is served hot with a sprinkle of chives on top.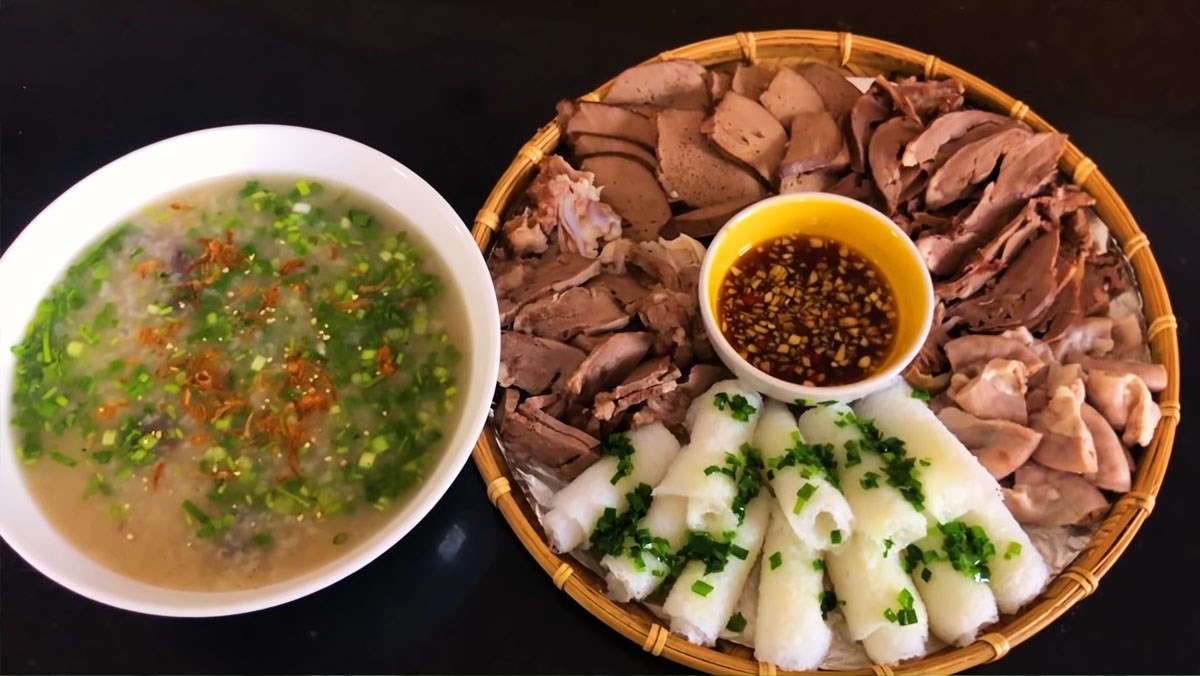 Bun ca (fish  noodle soup) is another dish that comes highly recommended in Quy Nhon. The main ingredient in the dish is the fish cake, which is made with various kinds of fish like barracuda and mackerel. The broth is cooked with fish bones, usually those of mackerel and flagfish, because of their sweetness. The soup should not have a fishy flavor. Many stalls serve the dish with chili sauce.
Banh beo (water fern cake) is also a colorful snack with green spring onions, golden fried onions, pounded peanuts and red shredded shrimp. Banh beo is best had piping hot. Ms. Xe's stall on Tran Nguyen Dan Street is the go to establishment to savor this treat.
Tre (fermented pork skin), made with pig ear, head and belly, is considered a local specialty. It is seasoned with sesame, powered rice, galangal, chili, young guava leaf and garlic. The meat is fermented naturally for two or three days until the spices are absorbed, giving it a unique flavor. The chef uses chopsticks to mix the meat pieces before it is laid on the plate.